12 instrumenter til Henning​ was originally commissioned by The Museum of Contemporary Art in Roskilde (Denmark) for an exhibition on Christiansen, who has seen quite the revival with international re-releases and exhibitions within the last five years. On occasion of the exhibit, a proposal was made for Meldgaard to do a recomposition of the first two movements in Christiansen's Trio.Omtidendergik​(eng:​Trio.Aboutthetimethatpassed)​ (opus91,1975)writtenforrecorder, piano and cello.
The outcome serves as a fascinating unfolding of Henning Christiansen's musical practice, but foremost it is a perfect example of the unique expression that is signature for Anders Lauge Meldgaard as an artist and composer. Note by note, Anders Lauge Meldgaard has transformed the music of Christiansen from the original trio score into a new radiant composition. Each part is rewritten through a thoughtful system created by Meldgaard, who reflects on the proces: ​"I've imagined how Hennings piece has grown older, the instruments have grown in size, they've propagated and changed their pace"​. The three original instruments mutate into twelve: the recorder takes the form of a whole woodwind section while the piano spreads out to cover keyboard instruments such as harpsichord, synth and organ and the cello parts play out on several string instruments.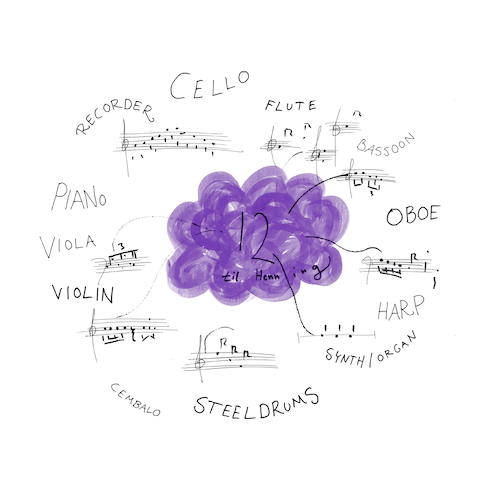 Furthermore, autonomous tempi are assigned for all the new voices. Each instrument operates at its very own pace, creating in total a unity of freely intertwined multilayered pulses. 12 instrumenter til Henning t​ akes off in the middle of a cloud of sound, 12 timbres all resonating with each other in a beautiful cacophony. From here, the 37 minute long piece unfolds little by little. After around 8 minutes, the cloud evaporates and reveals a highly organic arrangement within the ensemble. Like walking through unknown greenery, each instrument blossoms in turn, flowering phrases and rippling melodies. With ​12 instrumenter til Henning, A​ nders Lauge Meldgaard demonstrates his impeccable ability to combine minimalism with romanticism, a bright expression making sense of something indecipherable.